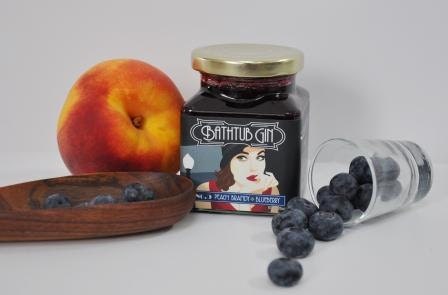 Peach Brandy Blueberry
While at the Franklin Pumpkin Fest I came across this adorable booth. It was Bathtub Gin an artisanal fruit spread business created by sisters Amy Lorber & Erin Ackley. They combined their love for homemade jam and 1920s and 30s and created a business.
These awesome ladies grew up making jam with our mom using fresh ingredients from their garden and found that once they had tasted warm jam made from the fruit they had picked that same morning, well, nothing else would do! They have incorporated our fascination with the prohibition era into our jams by using fruit in the same way that speakeasies did – by combining it with its perfect match in a spirit or liqueur to enhance the flavors, giving our preserves a unique twist.
Bathtub Gin is a licensed business and our jams are created in a certified and inspected kitchen. They use organic ingredients and choose locally grown produce whenever possible. Amy and Erin firmly believe that using the highest quality ingredients available helps create the absolute best tasting fruit spreads.
I have choosen a couple of great finds that I thought you might like. These items will make a really nice gift that person that you know that has everything.
Bathtub Gin Dillinger Gang Local Gift Basket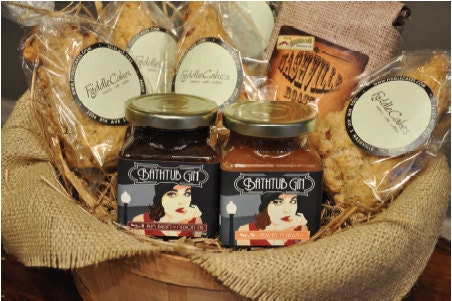 This gang of local Nashville products is available in three sizes and contains Bathtub Gin Fruit Spreads (in flavors including our Rum Raisin-Mission Fig, Elderflower Liqueur-Blackberry or Peaches 'n Cream), Nashville Roast Coffee (in blends such as "Black and Blue" which combine the rich fruity notes of African coffee, with the full body of Indonesian coffee, and the dark chocolate tones of Central American coffee) and Fiddlecakes scones (in an assortment of flavors such as Ham & Cheese, Fig, Apricot & Brie, Maple Walnut and Blueberry).
Bathtub Gin Dining by Moonshine Italian Basket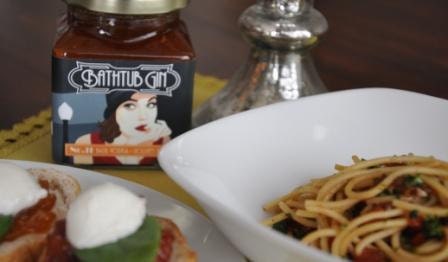 Each basket contains the makings for an intimate Italian dinner. Includes two jars of Bathtub Gin's Tomato Jams (including TN Whiskey - Cherry Tomato and Basil Vodka-Golden Tomato), an olive oil bottle, a basting brush and a hard-cheese grater all packed in a decorative crate. Each gift also contains the recipes for Tomato Jam Pasta with Caprese Crostini both made with Bathtub Gin.
Bathtub Gin Temperance Tea Party Basket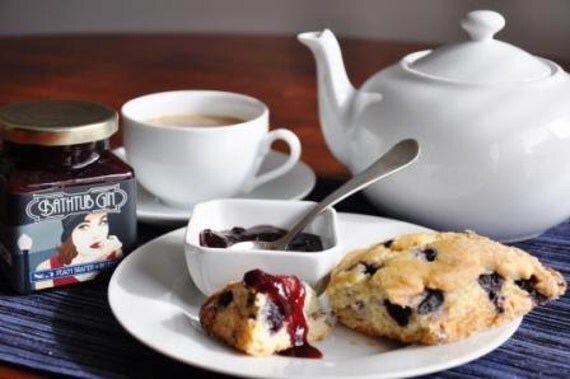 Each basket contains the keys to the perfect tea party. Includes two jars of Bathtub Gin Fruit Spreads (including Peach Brandy-Blueberry, Chardonnay Strawberry or Elderflower Liqueur-Blackberry), a teacup & matching saucer, a tea infuser, a teapot-shaped teabag rest, a tea towel, and a stainless steel whisk packed in a decorative crate along with the recipe for Peach Brandy-Blueberry Scones.
You can find these awesome creations by the web on Etsy @
Bathtub Gin Online
.
If you live in driving distance to Nashville you go to @
Nashville Farmer's Market
,
The Bloomy Rind
,
The Finder's Nest
, and
Green Door Gourmet
.